Where should I install the Infrared Sensor for my Belt Temp Gauge?
---
As our Belt Temperature Gauges use infrared sensors to monitor ACTUAL belt surface temperature, the sensor needs to be mounted in a location that has a clear view of the belt's surface. This requires you to drill a 1/2" hole in the clutch cover to fasten the sensor in place with its included locknuts. On most SXS's we recommend mounting the sensor on the 10, 12, or 2 o'clock on the secondary. For turboed RZRs with an aluminum cover, we suggest mounting the sensor closer to the 4-5 o'clock position. This is simply an easier place to align the drill and allows you to avoid drilling through metal on the cover. Should you decide to mount the sensor in a place where you'll be drilling through metal, that is fine - we just ask that you add an additional layer of insulation (electrical tape works fine) between the sensor/locknuts and the metal of the cover (to prevent any grounding issues).
---
Can I change the temperature settings of the LED alerts or adjust the brightness?
---
The LED's temperature settings are hard programmed into the gauge. Our default temperature settings are: Green below 200° F. Yellow from 200° to 224° F. Red from 225° to 244° F. Red Strobe from 245° to 259° F. Fast Red Strobe at 260° F and higher. If you prefer different thresholds for your gauge, please let us know at time of ordering so that we can custom program your gauge. Once a gauge has been shipped, the only way to re-set the temperature settings are to contact us, ship us your gauge, and pay a small reprogramming fee to cover our time and return shipping costs. As for brightness, there is no way to dim the gauge. If you do any night-riding, we would suggest obscuring the LED with some masking tape or perhaps some window tint film.
---
Why does is my gauge displaying "899" or an "Error: Sensor Disconnected" message?
---
Seeing either of these messages typically indicates interference resulting in a momentary or permanent loss of communication between the sensor and the gauge. This interference could be a result of how the gauge was installed, loose connections, or damage to the sensor/wiring/gauge. The first thing we suggest checking is if the sensor was mounted in any metal on the clutch cover (most common in Turbo RZR and Snowmobiles). If the sensor is in metal, there may be a grounding issue. Please insulate the sensor/locknuts from metal on the cover with a layer of electrical tape. From here, we suggest checking the connections to make sure all are tight. If you have a 3.0 Edition Gauge, we also suggest opening the quick-release connection (near sensor) to make sure all 4 wires are firmly held in place by set-screws. Another thing to check is if the sensor cabling is run in a loom with other wiring, ziptied to other wiring, or ran near any Ignition wiring/coils. Sometimes close proximity to "hot" wiring can cause the sensor to lose connection with the gauge. If your gauge still displays an "899" or "Error" message, if the display is blank, or if you have questions about any of the tips listed above - please let us know! We stand behind what we build, and we want you to have a product that works as it's supposed to. You can email us at Contact@RazorbackUSA.com, or give us a call at 888.525.2858 and we'll do everything we can to help!
---
What is a good belt temperature for my machine?
---
I wish I could give a universal answer to this question, but unfortunately it's a little more involved. Even straight from the factory, I don't think you'd be able to find 2 side by sides that perform identically. Then there's variations in aftermarket mods, riding conditions, and in how the machines are being driven. Typically we recommend keeping your belt below the 200°-225° F range to enjoy maximum belt life. By exposing your belt to temperatures this hot, even just once, you're running the risk of heat damaging your belt and essentially "baking" hours and miles off the life of your belt. Riding with a Razorback Technology gauge will help you establish a base-line for how your machine/belt performs. Then as you modify your machine or as your belt ages, you can observe how your belt temperature responds. Does your belt stay cool longer or does it heat up faster? Are those new paddle tires placing too large a load on your clutching; do you maybe need to make some adjustments? A couple of things to look out for when using one of our infrared belt temp gauges are a 40-60° F increase in your Average temperatures (in similar riding conditions/duration) over the life of your belt may indicate it's time to inspect your belt and consider swapping it out soon. If you're riding and see a sudden spike in real-time temperature (60-80° F) that can mean that your belt is stretching and slipping so much that it's about to completely grenade.
---
Does Razorback Technology sponsor any racers?
---
We do have a Racer Incentive Program available that offers a significant discount to racers. If you would like to discuss alternative sponsorship arrangements, we would be more than happy to talk with you - just reach out to us!
---
How can I become a Razorback Technology Dealer?
---
The first step in becoming a Razorback Technology Dealer is completing a Dealer Application. You can download a Dealer Application on our Dealers page. Once we receive your completed Application, we'll send you a Dealer Guide that discusses our Dealer Programs and our Ordering/Invoicing processes and you're all set! After you place your first order with us, we'll add you to our Dealer Map.
---
How do I install an Engine Temp Gauge on my YXZ?
---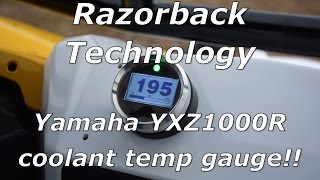 First, please consult the included User/Install Guide that came with your gauge. Next, here's a handy video. If you still have install questions, give us a call!
---
Can I run a metal Belt Guard with this sensor?
---
Yes you can. You might have to run a ground wire from the sensor to a ground source to eliminate any interference. Please contact us for more information.
---
---
How does the prepaid account work?
---
When registering on the Stop N Top / Randridge Technologies app or webpage, you are asked to pay €30.00. This is loaded to your account straight away. If your balance on your account falls below €10.00, your account will automatically be topped up using the card you registered your account with. It is very convienent, as all charging transactions will be debited off this amount and you will not have to pay for each individual charge. This way you will always have money to charge.
---
Can I add more money to my prepaid balance?
---
Your account will automatically topup with €30.00 whenever the balance falls below €10.00. This will happen continuously if there is a vaild payment card linked to your profile. You can also manually add more money to your account balance via the customer portal. Log in here and on the main page you will see a button to 'increase balance'. You can choose your amount and this will automatically be deducted off the payment card linked to your account.
---
Why does the price of charging differ in certian locations?
---
Stop N Top / Randridge Technologies network consists of and manages muliple charge point owners who act independently. This means that individually owned charge points will have trariffs set to what they deem suitable. Stop N Top / Randridge Technologies has no part in the decision of charge point pricing.
---
Can I charge without creating an account?
---
Yes you can! You can use any Stop N Top / Randridge Technologies charge point as a one-time customer. Should you be using the webapp, all you will need to do is find your nearest charging sation via the map. Select the charging station and you will be prompted to give your charge details after which charging will begin. To end the charging session, you will need to use the same device that started the charging and end the session. You can also access One Time Payment via our Stop N Top mobile app. If you're not logged in and you select a charge point or scan a QR code, this will allow you to start charging using the one time payment option. You will be prompted to enter your payment card information and once this has been done, your charging session will begin.
---
Where can I see the price of charging?
---
Pricing information is always avaliable for each location on our Maps on both the web app and the mobile app. The price shown at the of charge will be used throughout the charging session, even if the price should change during the charging session. The price you see will be applied.
---
How is my Payment information handled
---
All your payment data is stored in the servers of PSR approved payment provider Payment Highway. Randridge Technologies will not be able to see your confidential information but only anonymized tokens for handling the payments.
---
---
What are the various plugs for?
---
There are 3 main plugs / sockets that you would find on our charging units. Type 2 - Standard charge point in EV charging & the most common plug. Type 2 is used for AC charging and is the charge point you would commonly use when you car is parked for a longer time than normal, such as shopping centres, workplace or a residential place. Charging power with a Type 2 plug is higher than with a traditional wall plug but the power output depends on your EV's charging capablities. CCS - Standard Charge point in quick charging. CCS plugs give out power as a direct current (DC) which means the charging power is significantly higher. CCS plugs are usually found along highways and garages where the stop for charging is kept to a minimum to allow for a continuation of a smooth journey. CHAdeMO - Japanese standard for quick charging. Usually quick chargers are equipped with both CHAdeMO and CCS plugs to allow maximum compatibility.
---
Why is my car charging lower than the maximum speed?
---
When charging, the Electric Vehicle and the charger are contantly communicating with each other with regards to how much power can be delivered. The speed of charging depends on many factors and in many cases the maximum power of the charging device is not reached constantly. The following things affect the charging power: State and condition of the battery Onboard charger of the vehicle Electric grid state Load balancing of the location Temperature
---
---